Kälarne school's journey to digital prominence – with Haldor
With 60 km to the nearest primary school in the municipality in the sparsely populated area of Jämtland, there was a pressing need for reliable, digital tools for Kälarne school.
Haldor's learning platform means the school can now offer greater transparency and clarity for teachers as well as for students and guardians and bridge the distances.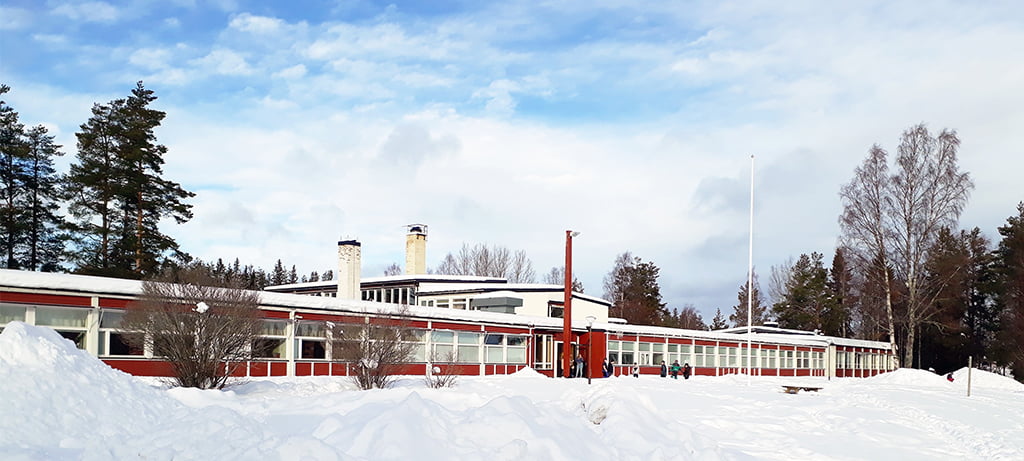 About a hundred students from preschool to the ninth year share the premises at Kälarne school. Here there is a close proximity to nature, a large playground that invites motion and recovery along with a sports hall and swimming pool. Kälarne is the small school located between Östersund and Sundsvall, in the sparsely populated area of Jämtland.
"Long commute distances are common here and merging classes can sometimes be a challenge. We have really great students, and teachers with impressive skill sets," says head teacher Eva Kvist.
Looked for a flexible solution
A few years ago, Kälarne School recorded absence and attendance and submitted final summaries and grades using a static system without any possibility for interactivity.
"There was no flexibility at all," says Eva Kvist.
The need to find a digital and interactive tool was becoming increasingly evident. Maths and science teacher Eddie Backlund participated in an inspiration day in Sundsvall and as luck would have it won a competition where the prize was a presentation on how to work with different aids.
"Having everything gathered in one place gives me a flexible and convenient experience. I log onto Haldor every day whenever needed. I think that many students appreciate that you can find out what an assignment will be assessed on."
Said and done. The decision was made in 2017 to implement Haldor's learning platform to group everything from school assignments and plans to summative judgements, timetables and parent teacher meetings into one tool, integrated in Microsoft Teams
"Having everything gathered in one place gives me a flexible and convenient experience. I log onto Haldor every day whenever needed. I think that many students appreciate that you can find out what an assignment will be assessed on," says ninth year student Mina.
Mimi Kallin, school administrator and student mentor for years 8 and 9, agrees:
"Yes, I think it is important for students to be able to see what is expected of them. This is made very clear in Haldor and the very high level of satisfaction from students feels very palpable.
"Great responsiveness"
As Kälarne school was one of the first to start using Haldor, they have been a big part in the development of the various services. For the school, it has been vital to be able to position themselves at the digital cutting edge, in order to be able to contribute to community and cohesion in a municipality dealing with long commute distances.
"Starting to work with new digital systems can take time and Haldor has been responsive to what we have requested in my opinion," says Eddie Backlund.
"The support and assistance from Haldor is fantastic. It doesn't matter what we have requested or what we have needed help with. The response to our requests has been superb," Mimi Kallin adds.
Clearer overview for guardians
A feature that Kälarne school particularly appreciates is how Haldor's platform can also be used by parents. Guardians can easily go in and read about the parent teacher meetings and see how the student is doing. In addition, it will be easier to make sure no one is ever overlooked.
"It is very flexible. Sharing information has been tricky in the past. For a teacher, everything can seem obvious and feedback was previously noted using pen and paper, whereas now, for example, a guardian can log onto Haldor, click on an assignment and read the feedback," says Eva Kvist.
She adds:
"As a teacher, you are faced with a daunting workload and anything that can make your job easier is welcome. Our task is for our students to have all the resources to succeed in their schooling. Haldor gives a very clear picture of the progress the student is making."
Looking to invest even more
Mimi Kallin describes her goal of being able to use Haldor in the Teams app. After presenting this request, students can now access their learning platform regardless of their location.
"Everything is so positive, I have never heard anyone say 'that's not possible'. All the things we have requested have been implemented."
The plan going forward is to continue to develop digitally in order to maintain our position as being digitally prominent in a school world where there is still a lot of room for improvement.
"Generally speaking, all schools do their own thing and how digital you are often depends on who is managing IT. It is a fresh product that must be kept dynamic," says Eddie Backlund.
Eva Kvist agrees:
"At our school, we have teachers who want to invest, and I also perceive a willingness to use digital tools among both students and guardians. This has been even more important in these pandemic times. Being clear and transparent makes everyone feel at ease and reassured. Everyone's a winner, and Haldor is a major factor behind this success."
Want to know more about how Haldor can make life easier for you and your school?
Get in touch and we will tell you more!